Accelerating IT Success
Digital Disruption / Innovation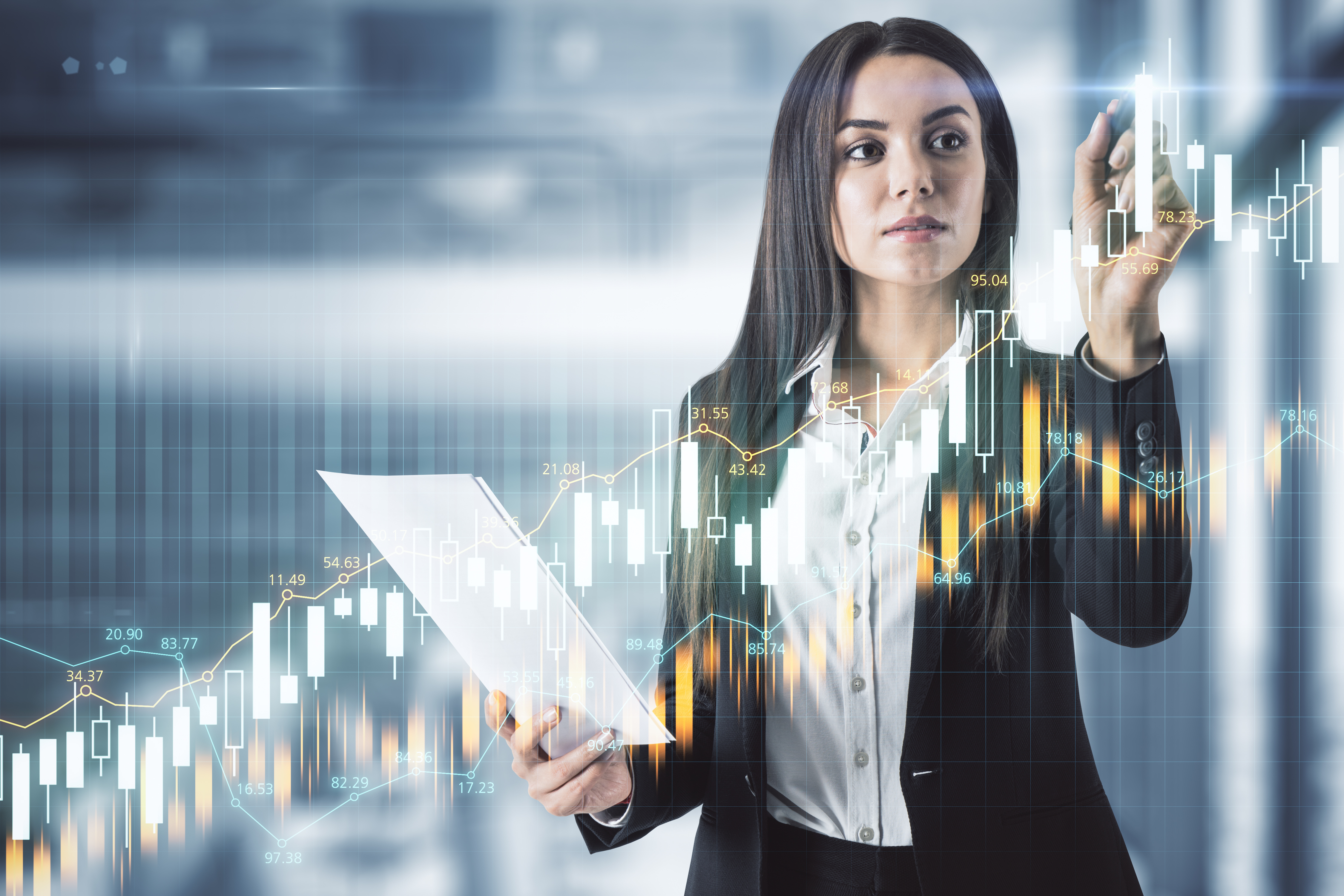 Have you ever wondered how some companies manage to transform the entire industry, leaving their competitors behind to catch up? It is all thanks to disruptive business models. In this fast-paced digital era, technology has become the driving force behind innovation and success. From AI and machine learning to big data and the Internet of Things, digital technology has transformed the way you do business. These models are reshaping industries, creating new opportunities for organizations, and challenging traditional norms. In this article, we will delve deep into the impact of digital technology in business, its significance in project management, and how it can create new opportunities for organizations. 
Understanding Disruptive Business Models 
Disruptive business models represent a departure from traditional practices and revolutionize the way companies operate. They are characterized by innovative approaches, leveraging digital technologies to create new value propositions and serve customer needs more efficiently. You can now offer personalized experiences to your customers, expand globally without leaving your office, and innovate with agility like a true trailblazer! 
How Digital Technology Creates New Opportunities for Your Organization 
As a business leader, remember that digital technology is not just disrupting industries; it is creating a whole new world of opportunities for businesses to explore. Imagine having a business model that efficiently handles repetitive tasks and offers valuable insights for strategic decision-making.  According to a McKinsey analysis, organizations can witness approximately $40 billion to $110 billion in revenue growth and $40 billion to $60 billion in margin expansion through technology enablement in industrial services globally. The same study revealed that companies that introduced real-time dashboards with granular data were able to boost productivity by 7 to 20 percent. 
Here are some opportunities that the disruption model offers for growth, innovation, and improved customer experiences: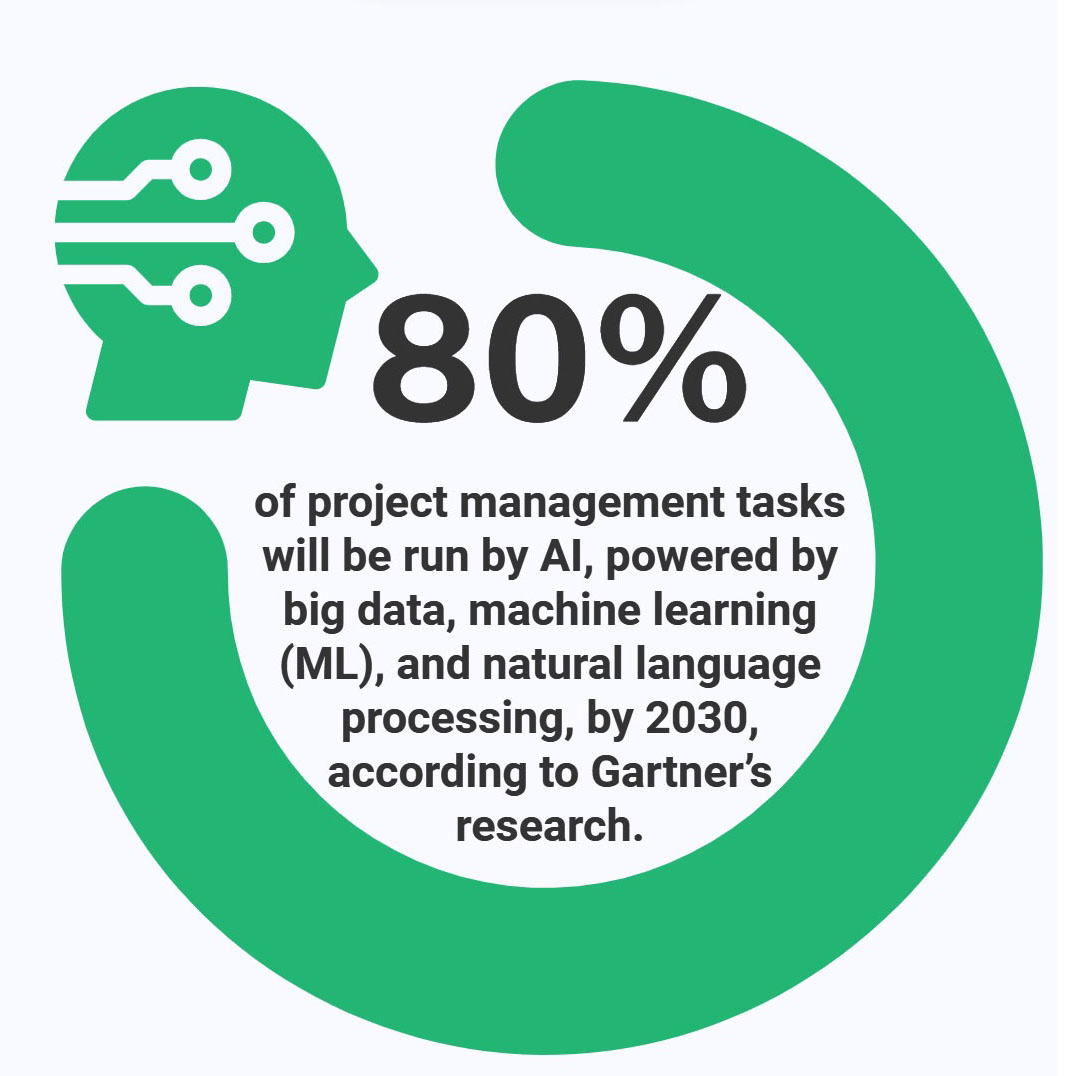 Enhanced Efficiency: Automation and AI-driven solutions streamline your business processes, allowing you to reduce operational costs and improve efficiency. Furthermore, the disruption model helps your organization continuously innovate and collaborate with emerging technology partners. 
Data-Driven Decision Making: Big data analytics provides valuable insights, enabling data-driven decision-making for strategic planning and forecasting. Rapid prototyping and agile development methodologies enable your organization to quickly innovate and adapt to the changing market demands. 
Personalization: Digital platforms allow you to tailor your products and services to individual customer preferences, fostering customer loyalty. Customer-centric approaches and user-friendly interfaces boost the overall customer experience, helping you stay relevant in the industry. 
Global Reach: E-commerce and digital marketing enable you to expand your organization's reach beyond the geographical boundaries, accessing global markets. You can connect with the previously untapped customer segments through online platforms and personalized services. 
Challenges of Disruptive Business Models 
While disruptive business models offer significant advantages, they also come with their fair share of challenges. "Technology is not enough if the business model is no longer fit for purpose. Leaders cannot expect to simply sprinkle their old business models with the latest technologies. That's not going to cut it," says Ade McCormack, disruption readiness advisor. What are the possible challenges you might face while implementing new business models? 
Resistance to Change: Implementing disruptive models may face resistance from stakeholders accustomed to the traditional practices. 
Regulatory Hurdles: Some industries face regulatory challenges that slow down the adoption of disruptive technologies. 
Security Concerns: With increased reliance on digital platforms, you must address the cybersecurity threats and protect sensitive data. 
Skill Gaps: Embracing digital technology demands a skilled workforce, leading to the need for upskilling and reskilling initiatives. 
Why Digital Technology Is Important in Project Management 
You might now ask, "What does digital technology have to do with project leadership and execution?" According to a Harvard Business Review study, applying predictive intelligence and other technological innovations to project execution has improved the success ratio of projects by 25%. This means leaders that fail to embrace disruptive business models leave trillions of dollars' worth of value and benefits on the table.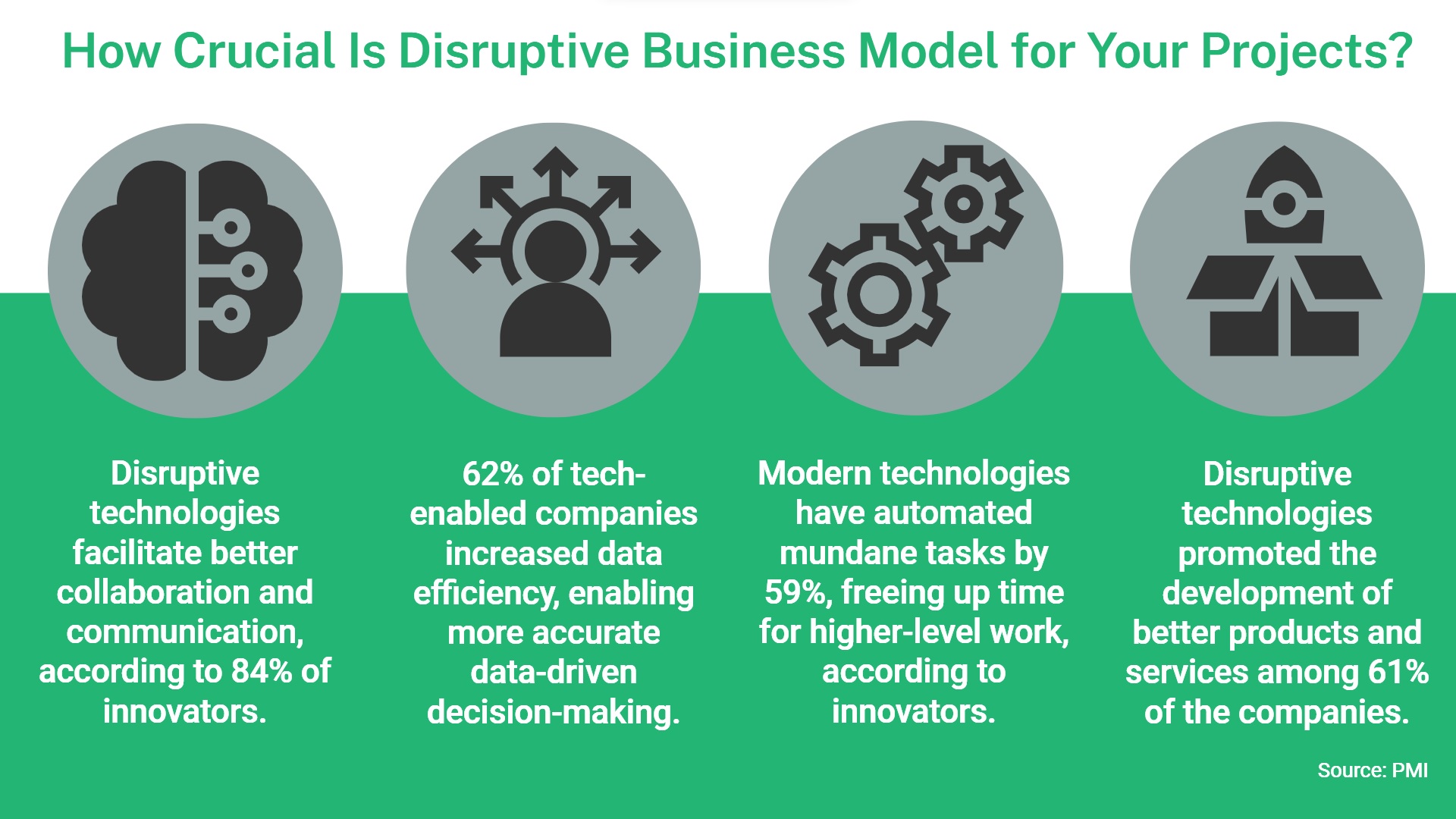 Several studies and findings validate the significance of disruptive business models and digital technology in project management. Project Management Institute's (PMI) Next Practices: Maximizing the Benefits of Disruptive Technologies on Projects revealed that 71% of organizations that adopted disruptive technologies met the original goals or business intent of their projects. Furthermore, 83% of business leaders met or exceeded their business objectives. 
How can you transform project execution with disruptive business models? 
Enhanced Selection and Prioritization 
Machine learning (ML) revolutionizes your project selection and prioritization process by detecting patterns that escape human detection. ML-driven prioritization promises to: 
Rapidly identify the launch-ready projects with solid fundamentals, 
Select projects with higher probabilities of success and superior benefits, 
Achieve a well-balanced project portfolio while providing a comprehensive risk overview, and 
Eliminate human biases, thereby enhancing the quality of decision-making.
Optimized Support for the Project Management Office (PMO) 
Data analytics and automation offer a wide array of opportunities for you to streamline and optimize your project management office (PMO) role. With these intelligent tools, you can expect: 
Real-time monitoring of project progress, 
Anticipation and resolution of potential problems, 
Automated preparation and distribution of project reports, along with easy feedback gathering, 
Enhanced selection of the best project management methodologies for specific projects, and  
Continuous monitoring of processes and policies to ensure compliance. 
Streamlined Project Definition, Planning, and Reporting 
Utilizing predictive intelligence to anticipate risks that were previously challenging to identify will undoubtedly give your organization a competitive edge. These advancements have extended to project definition, planning, and reporting, replacing manual, repetitive tasks with efficiency and accuracy. The developments encompass: 
Streamlined project scoping through automated collection and analysis of user stories reveals the potential issues and complexities, 
Tools to facilitate the scheduling processes, resulting in detailed plans and resource requirements, and 
Real-time automated reporting, providing an objective view of project status, achieved benefits, potential delays, and team sentiments.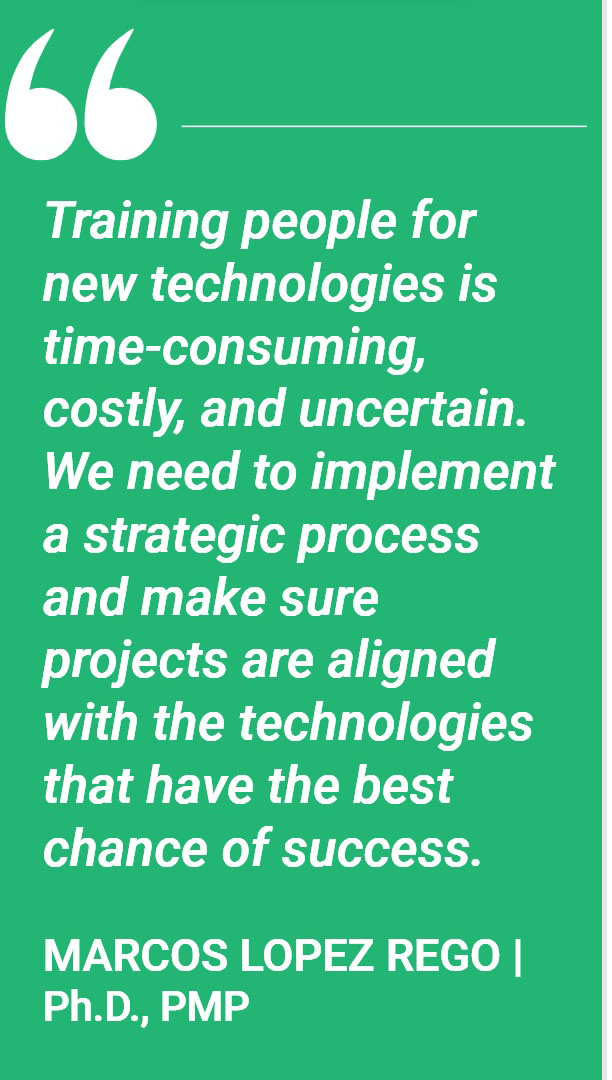 Are you looking for a solution that helps you mitigate project risks, gain real-time project insights, and streamline your planning process? TrueProject has it all. TrueProject uses predictive intelligence to anticipate project problems before they escalate into failures. By identifying early indicators of issues through data analysis and stakeholder feedback, you can take timely corrective actions to ensure project success. Additionally, the platform offers a comprehensive project view, integrating data from various sources. This enables you to have real-time insights into the project's health and status. 
Disruptive business models powered by digital technology have become a force to be reckoned with in the modern business world. Furthermore, digital disruption in project management cannot be ignored. Disruptive technologies offer data-driven insights, improved collaboration, automation, and resource optimization. As the digital landscape continues to evolve, you must adapt to stay competitive and capitalize on the future disruptive trends. By understanding the significance of disruptive business models and leveraging digital technology in business leadership, you can navigate the ever-changing business landscape and lead your industries into a successful and innovative future. 
-----------------------------------------------------------------------------------------------------------------------------------------------
Author: Tom Villani
-----------------------------------------------------------------------------------------------------------------------------------------------
Endnotes: